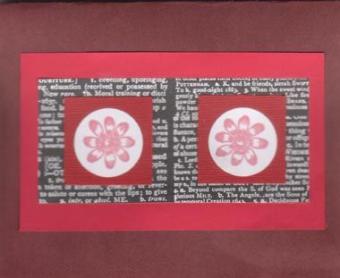 On February 14, surprise the one you love with a handmade Valentine card. Whether you're sending a Valentine to your spouse or treating a special friend to a one-of-a-kind card, LoveToKnow Crafts is here to offer the ideas and inspiration you need to begin your project.
Getting Started
You can probably find many of the items you need to make your own Valentines in your craft closet. If not, head to the nearest Hobby Lobby, Michaels Crafts, or Joann Crafts to check out the selection of seasonal card making supplies. Items you may wish to look for include:
Stickers or rub on letters with romantic sayings
Small silk flowers
Ribbon
Heart-shaped brads
Rhinestones
Glitter
Teddy bear rubber stamps
Pink, red, and white vellum
Patterned scrapbooking paper with Valentine-inspired graphics
You may also want to pick up a box of blank envelopes during your shopping trip. While it is possible to make envelopes for your handmade greeting cards, purchasing pre-made envelopes is a convienent way to free up more time for the design aspect of your card making project.
Quotes for Handmade Valentines
If you find it hard to express yourself in writing, don't worry about composing an original love poem for your handmade Valentine card. Simply start with a quote that expresses how you feel about the one you love. Possibilities include:
"In the arithmetic of love, one plus one equals everything, and two minus one equals nothing." --Mignon McLaughlin
"When you love someone, all your saved-up wishes start coming out." --Elizabeth Bowen
"Thou art to me a delicious torment." --Ralph Waldo Emerson
"Two human loves make one divine." --Elizabeth Barrett Browning
"Love is all we have, the only way that each can help the other." --Eurpides
"Love gives itself; it is not bought." --Henry Wadsworth Longfellow
"The greatest happiness of life is the conviction that we are loved - loved for ourselves, or rather, loved in spite of ourselves." --Victor Hugo
"The word love can be explained in thousands of ways, but the only word that comes to my mind is you. I think we dream so we don't have to be away from one another. If we're in each other's dreams, we'll always be together." -Hobbes
"Love transforms; it simultaneously makes us larger and limits and limits our possibilities. It changes our history even as it breaks a new path through the present." -- Michael Dorrius
For a creative touch, consider printing the quote of your choice in a unique Valentine font. DaFont has a large selection of free fonts that are perfect for any Valentine paper crafting project.
Sample Valentine Cards
If you're looking for sample Valentines to help you get started on your card making project, check out the following helpful links: