Make Your Own Thanksgiving Place Cards
If you are planning a holiday gathering, you can easily make your own Thanksgiving place cards to use at your table. Place cards can add elegance, dash, and creativity to any feast.
Choosing the Type of Place Cards
There are many as types of place cards and ways of making them as there are people. The first thing you will need to decide is the type of place card that will fit your table best. Is it going to be a casual meal or a formal one? Will it just be family, or do you intend to have other guests as well?
If you want something very fancy and formal then you will want to either print one from your computer or use a special ink stamp. These will have clean lines and fancy print styles and you can use special papers to print them on.
You can also make homemade cards. These work well for a casual table. You can use a variety of materials and techniques, from embroidery to watercolor paint. If you are having a family dinner, another option is having your children make place cards. These are usually not perfect but whimsical and comfortable.
Print From Your Computer
One of the easiest ways to make place cards is to print them directly from the computer on card stock that is available at almost any office supply store. If you need help downloading the printables, check out these helpful tips.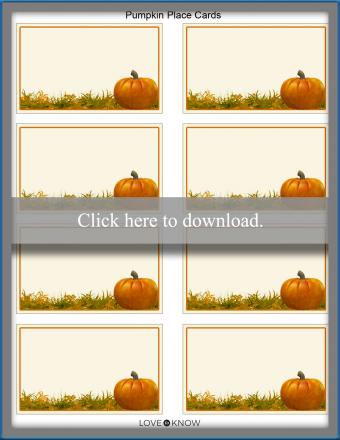 A Variety of Make Your Own Thanksgiving Place Cards
Another way to create Thanksgiving place cards is to make handcrafted ones. You can do this in several ways and with a variety of materials.
Thanksgiving Stamps
Stamps can be formal or casual depending on the design you choose. You can even use rubber stamping to make embossed designs. Consider the following:
Cookies
You can use your favorite rolled cookie recipe to make sweet place cards. Just cut the dough in a leaf, turkey, or other autumn-themed shape and bake. When the cookies are cool, write the guest's name on each one with icing.
Quilling
Using a variety of quilling techniques you can create beautiful place cards with this centuries-old paper craft. Use cardstock as the base, and glue your quilling to it. Allow the cards to dry, and then add the names in calligraphy. You can also print the names on the card using your favorite font on the computer and then add the quilling if you aren't comfortable with your handwriting.
Here are some free patterns:
Cross stitch
Cross stitch lends itself to many different applications. You can find a simple Thanksgiving cross stitch design and create a keepsake place card out of it. Just use fabric glue to affix the finished cross stitch to a piece of cardstock.
Here are some motifs and patterns to get you started:
Calligraphy
If you know calligraphy, you can easily make place cards on beautiful paper. You might also consider using calligraphy markers or Sharpies to create unique Thanksgiving place cards from nature. Just use a beautiful crimson leaf, a tiny pumpkin, or other item, and write the guest's name on it for a warm, autumn-themed table.
Buy small votive candles and write the names of the guests on the glass. Use stamps, stickers, or other embellishments if you like.
Thanksgiving Place Cards for Children to Make
Having the kids get involved is a great way to keep them busy during holiday preparations. You can even make your own Thanksgiving place cards while they make the less formal ones for the kids' table. Here are some ideas for place cards that your children can make:
Put Some Creativity in Your Holiday
Making homemade place cards is fun for all ages. Be sure to give yourself plenty of time so that things aren't rushed and stressful. Gather your materials, and do as much as possible a month or so ahead of time for a relaxed, creative holiday.