If you're looking for a handmade, homey version of the traditional Christmas stocking, nothing beats the charm of a knit version. Whether you purchase a stocking or knit it yourself from a pattern or kit, your holiday is sure to be a little cozier this year.
Where to Buy a Knit Stocking
From chunky cable knits to classic Fair Isle patterns in Christmas colors, there are lots of adorable knit stockings out there. You'll even find some options that come personalized with the name of the lucky person Santa will be visiting. Consider some of these options.
Annie's Woolens Personalized Stockings
Annie's Woolens specializes in knit Christmas stockings that will melt your heart. These old-fashioned designs simply beg to be hung by the chimney with care. Each stocking is 21.5 inches long and seven inches wide, offering plenty of room for tasty treats and stocking stuffers. You can choose from 14 different Scandinavian-style designs including a Santa, a bear, an angel, and a snowman. All the stockings come in combinations of natural, red, green, and black 100% wool. They are made in the USA and hand-finished to ensure quality.
You can personalize your choice of stocking with a name up to 10 letters long. Longer names are an option as well, but you'll need to contact the company directly to find out about pricing. The designs retail for about $47 each.
Annie's Woolens accepts returns within 14 days, but they do not allow returns after Christmas. Most personalized stockings ship within five to seven days and there are several shipping options to choose from.
L.L.Bean Chunky Knit Stockings
If you love the classic, chunky style of your favorite cable knit sweater, you'll adore these knit stockings from L.L.Bean. With their simple and elegant style, they are perfect for your modern country Christmas. Available in a deep, festive red or the neutral off-white many people associate with a fisherman's sweater, these imported stockings are knit from acrylic yarn and lined with cozy fleece. They measure 22 inches long by eight inches wide, providing ample room for plenty of little treasures from Santa. These stockings retail for about $30 each.
If you aren't satisfied with your purchase, L.L.Bean offers one of the best return policies around: You can return your purchase at any time for any reason if it doesn't meet your needs. Standard shipping is free, and you'll receive your order in about two to five business days. You can also choose from several express options if you need your stocking sooner.
Pottery Barn Kids Fair Isle Stockings
The intricate look of the traditional Fair Isle pattern makes these Christmas stockings from Pottery Barn Kids an instant classic. You'll love how they coordinate with one another in shades of white, deep red, bright green, tan, and brown. You can choose from two sizes: seven inches wide by 18 inches long or seven inches wide by 27 inches long. Either way, you can have the stocking personalized with a name to help Santa keep everything straight. These stockings are a wool and acrylic blend, and they retail for about $30 to $35.
Pottery Barn Kids will accept returns within 30 days, but if you choose to have the stocking personalized it is not eligible for return. Shipping rates depend on the size of your order and whether you need it right away. Expect to spend around eight dollars to ship a single stocking within seven business days.
Taraluna Free Trade Handknit Wool Stockings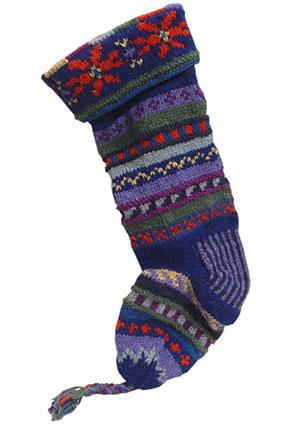 Sold on Amazon.com, Taraluna Free Trade Handknit Wool Stockings are a socially and environmentally responsible option that will bring plenty of Christmas cheer. Each unique stocking features lots of bright colors and fun holiday motifs like Christmas trees and mountain scenery. These are handmade in Nepal out of wool yarn and come in several style and color combinations. Because the knitters use the yarn they have available, the stocking you purchase may not look exactly like the pictures shown. These stockings are eight inches wide and about 20 inches long, and they retail for about $30.
These stockings have a five-star rating at Amazon and past customers have been very satisfied with them. If you need to return them, however, Amazon will handle all the return processing within 30 days of purchase. Shipping for the stockings is about eight dollars.
Knitting Your Own Stocking
If you have the time, you can knit a stocking that is sure to become a treasured family heirloom. You can purchase a kit or use a pattern. Either way, this is a fun and affordable way to create something truly special for your family's holiday celebration.
Christmas Stocking Knitting Kits
If you'd rather use a kit to create your handmade stocking, there are plenty of fun choices for all skill levels. Most include just about everything you need to create the stocking. Try one of these options:
Ann Norling Christmas Stocking Kits - Equally suited to beginners and experienced knitters, these kits come with instructions, 100% wool yarn, and embellishments. You can choose from 12 different styles including snowmen, reindeer, trees, and more. Each is about 20 inches long. The kits retail for about $25 and ship within two business days.
Halcyon Christmas Stocking Kit - This versatile option from Halcyon Yarn lets you customize the design by choosing from various elements. You can add rows of snowflakes, reindeer, trees, and more. The kit comes with instructions and enough yarn to make two 23-inch-long stockings. Best for intermediate knitters, it sells for about $35 and ships within two days.
Annie's Woolens Christmas Stocking Kits - If you love the old-fashioned charm of Annie's Woolens stockings but want to make them even more special by creating them yourself, you can purchase a kit to make your favorite design. Choose from lots of great designs including Santa, angels, holly berries, and more. Each kit comes with yarn and instructions, and the finished stocking is about 22 inches long. Each kit retails for about $30 and ships within seven days.
Make Christmas Cozy
From elegant cable knits to detailed Scandinavian designs, knit stockings bring extra cheer to your home. Whether you choose to knit a stocking from a kit or pattern or purchase a stocking already made, your Christmas is sure to be cozy with this knitted treasure hanging by your chimney.