Homemade Halloween Crafts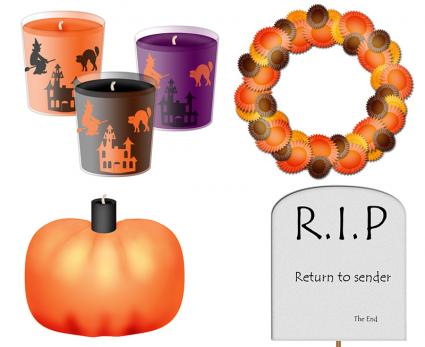 Big and little ghosts and goblins alike enjoy creating Halloween themed crafts. But these crafts provide more than just a fun activity, they also make ghoulish decorations to help bring the spirit of the holiday into your home. From costumes to pumpkins, there are lots of creative projects you can make to decorate your home.
Indoor Halloween Craft Projects
Halloween crafts can be cute or scary. While some of your decorations will be more suited just for the holiday, many crafts can last the entire fall season.
Painted Votive Holders
Candles bring a warm glow and a feeling of mystery to any room.
Supplies
Orange, black or purple votive candles
Halloween themed stencils
Clear votive candle holders
Acrylic paint
Paint brushes
Instructions
Arrange stencils on votive holder
Use a paint brush to apply paint to the holder
Carefully remove stencil when all paint has been applied
Allow it to dry
Add candle
Alternately, fill a shallow glass dish with candy corn and "float" candles in the middle of the sweet treats. For a completely safe candle holder, opt for battery-operated candles instead of standard votives.
Pumpkins All Around
Nothing says "Halloween" like pumpkins. Traditional carved or painted pumpkins can be used to decorate your home, or try creating a votive candle holder out of a small pumpkin with these instructions.
Supplies
Small gourd or pumpkin
Votive candle
Sharp knife
Instructions
Cut the stalk off of the gourd and carve an opening for the candle
Clean the cut area thoroughly
Insert a votive candle into the hole
An Eye-Catching Centerpiece
A simple pumpkin or grouping of Halloween-themed items can create an interesting table centerpiece. You can also create a memorable centerpiece that's fun to nibble on.
Supplies
Several clear, glass containers (dollar and thrift stores are good resources)
Halloween candy (black licorice, orange jelly beans, candy corn, etc.)
Self-stick labels for a computer printer
Computer with printer
Raffia in natural or Halloween colors
Silver serving tray
Instructions
Fill the containers with assorted black and orange candies, such as black jelly beans and black licorice
Make labels on your computer using Halloween-themed clip art that say "Twisted Treats" or "Scary Sweets"
Remove the back of the labels and stick them to the containers
Tie raffia around the containers to embellish them without blocking the labels
When you're finished, place all the jars on a shiny silver tray
Outdoor Halloween Craft Ideas
Let visitors and candy-seekers know that you're in the Halloween spirit by taking your decorating ideas outside, too.
Halloween Wreath
A Halloween wreath is a great way to welcome guests to your home.
Supplies
Unused coffee filters (one or two large packs of the basket style)
Orange and black food colorings
Round Styrofoam wreath form
Old newspaper
Hot glue gun
Large buckets or bowls
Rubber gloves
Instructions
Fill two buckets or large bowls halfway with cold water.
Add orange food coloring to one and black food coloring to the other.
Separate coffee filters. Wearing rubber gloves, dunk the filters into food color baths. Leave in from a few seconds to slightly longer, depending on how dark you want the color.
Remove filters and let dry on newspaper.
Once filters are dry, glue them randomly onto the wreath form, making sure it's completely covered. There's no need to be precise; bunch the filters with your fingers randomly to create a pleasing, rounded shape.
When the glue is dry the wreath can be hung as is, or you can adorn it with plastic skeletons, cut-out paper pumpkins, or any other Halloween embellishments you like.
Bush Faces
Create some spooky creatures to greet your guests and trick-or-treaters.
Supplies
Old white sheets
String, rope, or bricks
Black fabric paint
Paint brushes or sponge applicators
Instructions
Drape the sheets over large bushes in your yard and secure at the base with string, rope or bricks.
Paint faces onto the sheets. Set the mood by choosing scary or funny faces for your garden ghosts.
A Graveyard
Create a spooky cemetery out of simple craft items to greet trick-or-treaters.
Supplies
Old cereal boxes or other cardboard boxes
Gray and black paint
Skinny dowel sticks
Instructions
Cut the front and back off of cereal boxes.
Round the upper edges with scissors so that the top corners are curved, representing a tombstone shape.
Paint the front and back light gray. Allow to dry.
Add epitaphs with black paint. Funny R.I.P. sayings are sure to amuse guests as they walk to your front door.
Place tombstones around your front yard. Use short dowel rods to make them stand.
If you want to make your graveyard tombstones more durable to last several seasons, coat the finished tombstones with a clear acrylic sealant to protect them from outdoor elements and storage.
Homemade Halloween Costumes
It seems like every crafty mom loves to make cool Halloween costumes for her kids. Not only can you save a bundle, your children receive one-of-a-kind outfits that allow creative input from everyone.
Snowman Costume
A snowman is a fun and whimsical costume for people of all ages.
Supplies
White sweatsuit, with a little extra room in the top
Small pillow
Black and orange felt
Scissors
Needle and thread or glue gun
Broom
Black belt (optional)
Instructions
Cut two circles out of black felt
Glue or sew the circles on the front of the sweatshirt to represent eyes
Cut five circles out of black felt and glue or sew them to the front to represent a smile made from rocks
Cut a triangle out of orange felt and glue or sew it to the front to represent a carrot nose
When ready to wear the costume, put on the sweatsuit and stuff the pillow into the front of the shirt
Tuck in the sweatshirt, or wear a black belt to keep the pillow from sliding out
Carry the broom to complete the costume
Spider Costume
Creepy spiders can be spooky on Halloween.
Supplies
A black sweatsuit
4 pairs of black pantyhose or tights
Needle and black thread
Cotton stuffing, enough to fill all of the legs of the pantyhose
Black face paint
Instructions
Cut the legs off of 4 pairs of pantyhose
Pack the stuffing into the legs so that they are fairly stiff, being careful not to tear or cause runs in the hose
Sew four stuffed legs to each side of the sweat suit
When ready to wear, don the costume and then paint your face black to complete the look
Black Cat
A cat costume can appeal to both children and adults, and can be customized with different colors. Opt for a traditional black cat to keep the Halloween spirit going.
Supplies
Black sweatshirt and pants
Black tube sock
Needle and black thread
Cotton stuffing
Black face paint
Black felt
Plastic headband (found at a craft or beauty store)
Instructions
Stuff a black tube sock with cotton stuffing
Sew the sock to the backside of the pants to create a tail
Cut two black triangles out of felt
Glue the felt triangles onto the headband to make ears and let them dry before wearing
When ready to wear, put on the sweatsuit and headband, then add a nose and whiskers with face paint
Halloween Party Craft Ideas
The only thing more fun than going out trick-or-treating is going to, or hosting a Halloween bash. Use these craft ideas to create a haunted atmosphere for guests.
Creative Party Invitations
Handmade cards etched with Halloween-themed designs are fun to make and a great project for kids to help with.
Supplies
Blank greeting cards and envelopes
Crayons
Masking tape
Thick piece of cardboard
Black tempera paint
Paintbrush
Toothpick or nail
Stencils (optional)
Instructions
Print the information for your party on the inside of your cards.
Cover the front of each card completely with bright orange, purple, white, gold, or silver crayon.
Use masking tape to tape the cards onto a thick piece of cardboard or another sturdy work surface. (Use small loops of tape on the back of the cards to keep the front completely uncovered.)
Coat the cards completely with a thick layer of black tempera paint.
When the paint is dry, etch a pumpkin, ghost, spider, or other Halloween design on the front using a toothpick or the tip of a nail.
In addition to using this technique to make party invitations, this is also a fun way to design artwork that can be framed as a cute holiday decoration or to make clever embellishments to use when scrapbooking your Halloween memories.
Masquerade Masks Party Favors
Make your party more memorable by giving each guest an interesting take-home gift. Guests who didn't show-up in costume can get into the spirit of the holiday with a homemade masquerade mask. You can even have your guests create their own during the party.
Supplies
Plain masks (available at craft stores)
Glue
Glitter
Beads
Feathers, rhinestones and other embellishments.
Instructions
Glue feathers onto the mask without obscuring the eye holes
Embellish with rhinestones and other items if desired
Use glitter or beads around the edges to give a finished look
Glittered Skulls and Bones
Dollar and discount stores often have plastic or ceramic skull and bone decorations for Halloween. While these decorations are certainly budget friendly, they're often just not very attractive. Add some interest to your Halloween decor by coating them in a layer of fine glitter.
Supplies
Skull and bone decorations
Newspaper
Large bowl or tray
Glue
Paint brush
Spoon
Glitter
Instructions
Cover work area in newspaper.
Apply glue to approximately half of the decorations.
Place the glued objects in the bowl or tray, then spoon glitter over the glue.
Let dry for at least one hour.
Tap off excess glitter, then repeat to cover the other side of the objects.
These decorations can be hung with clear fishing line, or piled onto a tray for an eye-catching centerpiece.
Crafty Spiders
Kids of all ages will enjoy this activity. Young children will need supervision for this project and should use safety scissors.
Supplies
Empty egg carton
Black pipe cleaners
Kid-friendly black paint
Glue
Googly eyes, available at craft stores
Instructions
Carefully cut individual cups from the egg carton.
Turn the holders upside down, so that the hump is pointing upwards. Paint the exterior with black paint and let dry.
Glue the googly eyes on the front of the spider.
Cut pipe cleaners to 3-inch lengths.
Stick eight pipe cleaners directly into the body and bend to create legs.
Celebrate with Homemade Halloween Crafts
Get the whole family involved in Halloween prep by creating fun and unique crafts together. Kids will love showing off their homemade costumes, and you'll end up with lots of great memories that you can revisit year after year as you bring out these crafty decorations.