You can use seed bead patterns to make a wide variety of projects. Although seed beads are commonly associated with jewelry making, they are a remarkably versatile craft supply that can also be used to create pretty pieces for your home. Since the beads are available in an assortment of colors and sizes, you can customize the patterns to suit your own tastes.
Free Patterns for Seed Bead Jewelry
Jewelry made from seed beads can be extravagant or simple depending on the techniques used. The beads themselves are available in a variety of colors, and their many sizes allow you to create intricate designs. They look great as long, simple strands for necklaces and bracelets, which you can combine in multiples to create a roped look. You can also combine seed beads with other bead types for fun and funky styles. Browse the following free patterns to expand your beading library.
Make this simple wave style necklace using seed beads and blister pearls. Click on the photo to download the instructions and detailed beading diagram. If you need help with downloading the pattern, check out these helpful tips. Suitable for a beginner.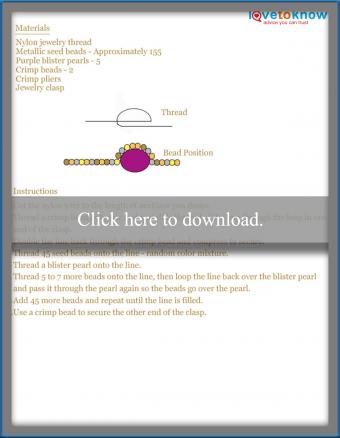 Patterns for Home Décor
Many people associate seed beads with jewelry making since these delicate beads are often used as spacers between larger beads or as the basis for multi-strand bracelets and necklaces. However, you can use seed beads to create a variety of home décor projects, as well. Beads add a perfect touch of sparkle to vases, picture frames, storage tins, and other fun accessories. Some home décor projects that use seed beads require stringing the beads while others simply use a strong adhesive to keep the beads in place. To try your hand at beaded home decor projects, check out the following patterns.
Tips for Using Seed Beads
As you have probably gathered by now, seed beads are very adaptable to many projects. If you have never worked with seed beads before, the following tips and information will make your first project much easier to complete.
Remember, seed beads are a choking hazard and should always be kept away from children and pets.
Cover your work area with a bead mat to keep your beads from slipping and rolling.
Synthetic beeswax, also known as microcrystalline wax, can be used as a thread conditioner to help keep your thread from tangling during projects that involve stringing.
When working with double sided craft tape, maintain the strength of the adhesive by using a craft knife to peel the protective backing off in small sections.
The most popular seed bead size is 11/0, but you can find beads ranging from 24/0 to 5/0. In most cases, seed beads are either sold by weight or available for purchase in multi strand units known as hanks. You can purchase them at most craft supply stores.
Get Creative With Your Patterns
If you're just starting out using seed beads, it's best to follow the patterns as written. Once you get used to working with them, you'll find seed beads are extremely multifaceted. Consider swapping out colors or combining patterns to create unique, individual designs you can use yourself or give as gifts.