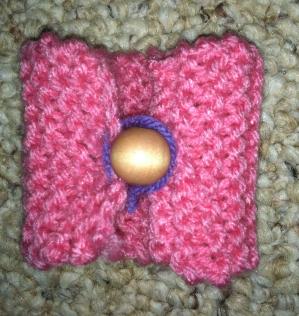 Children as young as five can learn to knit. Knitting is an educational activity that helps improve spacial recognition, math skills, design skills, and physical dexterity. Knitting can reduce stress and provides a constructive activity for children, and is a nice departure from television or electronic games.
Knitting Patterns Suitable for Kids
Finding free knitting patterns for children can be tricky since many projects aren't specifically designed for small hands. You can teach a child to knit using quick knitted projects designed for a novice if you provide close supervision and adapt the sizing of any clothing items.The following free knitting patterns would make excellent first projects for a young knitting student.
To save the patterns, click on the images to open the corresponding .pdf files. Then you can either download them onto your computer or print them out.
Knitted Pencil Case
This project is a great way for children to practice basic knitting stitches and is a practical addition to your child's school supplies.
Knitted Cuff Bracelet
This stylish cuff bracelet makes a great project for any novice knitter.
Resources for More Free Patterns
Although many patterns do not state that they are specifically for kids, the sites below offer designs that are well-suited for beginner knitters and can easily be followed by children.
All Free Knitting - This site offers a number of novice knitting patterns that are great for children and beginning knitters alike. Click on the project you want and then the PDF link to download the patterns.
Favecrafts - You must provide your email address on this site to access the free patterns. You will then find many beginner knitting projects that are suitable for kids. Click on the "print" or "save project" buttons at the top of each pattern to download or print them.
Red Heart - Using the menu on the right side of the page, select the "easy" skill level to access projects that will be fun for children without being too challenging. Click on the "Download Printable Instructions" button to access illustrated .pdf files of each project.
A Lifetime Activity
Learning to knit is a skill that your child will have for life. As her skill level improves start choosing more challenging patterns to keep her interested and learning more about the craft.