With a history that spans centuries and a reputation for alphabet samplers, you could be forgiven for thinking cross stitch to be one of the more staid, stodgy crafts. As you explore all of the available patterns, however, you'll notice just how diverse cross stitch can be. The key to finding the best cross stitch patterns is pinning down designs that reflect your personality (or that of the intended recipient) that you will enjoy stitching. If you just can't find the perfect pattern, it's fairly simple to make your own original ones. Fortunately free cross stitch patterns are widely available online.
Cross-Stitched Celtic Knot Pattern
This Celtic-style knot would make an excellent embellishment on a headband or a shirt, or for a towel border. You could also put one in each corner of any framed cross-stitch motif as an accent. It's an easy project for a beginner since it uses only one color and the pattern is simple to read.

To use, click on the image or the linked text beneath it to open the pattern in a PDF format and print it out. Work this knot in just one color, or hold several different-color strands together for a variegated effect. If using as a border you can alternate colors for a pretty effect. You'll also need to provide your own Aida cloth or cross-stitch-ready item, embroidery hoop or frame, and a tapestry needle.
Owl Motif Pattern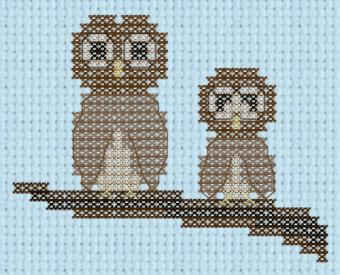 You can work this cross-stitch pattern for two owls on a branch on its own for framing, or use it to accent bath towels and washcloths. You can also use either (or both) of the owls on their own as smaller accents. In addition to Aida cloth, an embroidery hoop or frame, and a tapestry needle, you'll need the following colors of embroidery floss (actual number codes aren't as important as choosing colors that you like and that blend well together):
Medium brown
Dark brown
Very dark brown
Black
Gray
White
Medium yellow
Cream or buff
You'll also need to know how to backstitch, in order to outline the owls' eyes and bodies.
Free Cross Stitch Patterns Online
Many sites that offer free patterns are organized around a particular theme. If you liked the owl pattern above, for example, you might enjoy the small but lovely cross stitch patterns of birds at Bird Cross Stitch. Other themed sites include:
Conventional Cross Stitch Patterns
The following sites offer more traditional cross stitch motifs, including alphabet samplers, floral and country patterns.
DMC, the company that makes the embroidery floss most people use for cross stitching, offers a collection of fairly conventional cross stitch patterns for both cotton and linen embroidery floss.
FreePatterns.com has a nice collection of fairly conventional patterns organized into several sub-categories, including wearables.
EMS Cross Stitch Design offers lovely cross stitch designs to members who register for a free account.
Pattern Directories
Cross stitch pattern directories aggregate links to individual pattern sites. If you're not sure what you're looking for, any of these would be a good place to start hunting for a new project.
Drafting Your Own Patterns
If you have something specific in mind but can't find a cross stitch pattern for it online, you can always draft your own patterns. For a fast paper-and-pencil method all you need is graph paper and colored pencils. Each square on the paper is equal to one stitch.
Draw your design on the graph paper.
Use the colored pencils to lightly color in one square at a time until your picture is completely colored.
Use this pattern as you would any cross stitch pattern, matching the color of each stitch on the cloth to the color in the corresponding square on the graph paper.
The following websites and downloadable programs are helpful for rendering complex photos and other images:
Upload an image to Picture Craftwork for conversion into a cross stitch pattern. As long as the finished pattern contains fewer than 1,000 stitches, you can download the pattern file for free.
MyPhotoStitch offers more options than most free pattern makers; you can choose the size of the finished project and how many thread colors are used.
KG-Chart is a downloadable freeware program for creating your own cross stitch charts. It uses a color palette that mimics DMC floss colors and lets you draw backstitching. If you like this program, you can upgrade to a paid "pro" version with more features.
Cross Stitching for (Almost) Free
Whether you download a free counted cross stitch pattern or create your own, these projects are a great way to use up any leftover embroidery floss and Aida cloth you may have laying around. Don't forget that you can always alter a pattern to suit your style. The smaller designs, in particular, often look nice when combined to create a border around a larger stitched picture, or as accents on utilitarian items like hand towels.