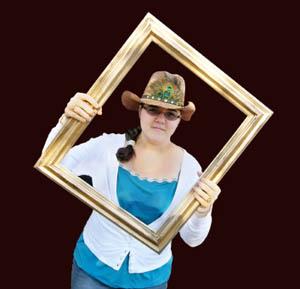 If you enjoy displaying photos of friends and family throughout your home, you may be in search of crafts to make picture frames.
Decorating Crafts to Make Picture Frames
In many cases, crafts to make picture frames involve customizing plain frames to fit your home's unique décor scheme. Unfinished wooden frames are available in a variety of shapes and sizes at large craft stores such as Hobby Lobby and Michaels Crafts. You can also try searching nearby thrift stores and consignment shops for frames that can be sanded and refinished.
Basic Decorating Ideas
When decorating an unfinished photo frame, you have a number of options. For example:
Paint a design on the frame with acrylic craft paints. Even if you're not much of an artist, swirls, stars, and dots are easy to make.
Stamp a design on the frame using your favorite rubber stamps.
Cover the frame with collage elements cut from old magazines and seal with a decoupage adhesive. Greeting cards and bits of wrapping paper work well for this project, too.
Wrap the frame with scraps of leftover ribbon or yarn.
Add gold leafing to the frame.
Use faux-finishing techniques to mimic the look of marble on the frame.
Adding Fun Embellishments
Attaching whimsical embellishments to a plain photo frame is a great way to give it a unique look. Here are a few ideas to consider:
Craft Rating
Craft Type:
Framing
Age Range:
3 years old and up
Recycled?:
Depends on materials used
Showcase a child's school photo by gluing crayons or pencils around a wooden frame.
Make a frame for your favorite princess by decorating it with Barbie shoes that have lost their mates.
Use leftover puzzle pieces to decorate a frame for your family game room.
Glue your favorite candies to a picture frame for a fun seasonal decoration, using peppermints for Christmas or conversation hearts for a Valentine's Day frame.
Decorate a frame for your kitchen with mismatched silverware.
Glue small alphabet blocks to a frame for a cute baby shower gift.
Use shells to embellish a photo of your friends at the beach.
Display a wedding photo surrounded by a border of silk flowers.
Add a button border to a picture frame for a homespun touch.
Give a frame a rustic look by gluing twigs around the edges.
Glue beads to a frame for a sparkling look.
Spell out a name or favorite phrase with Scrabble tiles to personalize the frame.
Making Picture Frames from Recycled Materials
Thrifty crafters often find that using recycled materials in their projects gives them a great sense of satisfaction. Creating something beautiful from items that would otherwise be thrown away is challenging, but a good way to save money while helping the environment.
Crafts to make picture frames from recycled materials can include: