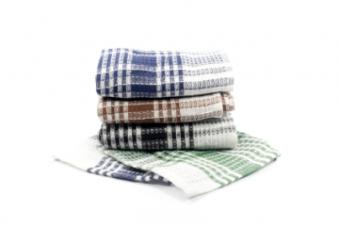 Craft projects for dish towels are a wonderful way to recycle those old, worn out kitchen towels. From valances to room accessories, there is a project to fit everyone's needs.
Get a Country Look with Craft Projects for Dish Towels
If you like a country or a cottage look, there are many accessories that you can create with your worn kitchen linens. Not only does it add charm to your home, but using the towels for crafts keeps them out of the garbage dump.
For Kids and By Kids
Kids will need help with these projects, but they are a great way to build relationship.
For a great Mother's Day or Father's Day gift, have children create these handprint towels and potholder sets.
Baby bibs are a quick project for almost anyone. Old, worn out towels work well to make baby bibs even if they have holes or tears.
If you have a small helper in the kitchen, use a dish towel to make this child's apron.
Where to Buy Vintage Dish Towels
If you don't happen to have vintage dish towels lying around, you can still find them to do a project with. Since you are generally buying a used product, be sure to read the descriptions carefully and make note of any references to wear and tear.
Use Your Imagination
Dish towels can be used in place of other fabric in almost any item. Other craft projects for dish towels might include:
Throw pillows
Quilts
Curtains
Tablecloths
Chair pads
If you like a retro look, then antique dish towels are a great way to achieve your decorating dreams.