A DIY mobile is a great way to add beauty to a baby's nursery or any room. Find out how to make a mobile to give as a gift or decorate your own home. These three great projects are perfect for any level of crafter.
Keep reading »
Browse Topics in Craft Project Ideas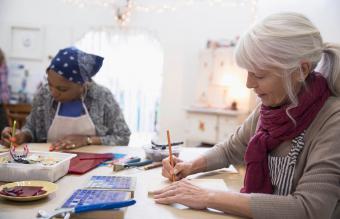 Craft projects go beyond your basic arts and crafts activities. Creative craft project ideas give you inspiration to create unique items using a variety of craft supplies. Some projects take a few hours to complete while others can take days when you factor in things like drying time for glue and paint.
Fun Craft Projects for Kids
Kids of all ages can participate in craft projects to ignite their creativity and instill some self-confidence. Younger kids can start with classic projects like making a paper towel tube Hawaiian ukelele or folding candy wrappers into crafts. Children can make a DIY lemonade stand then start their own business or learn how to make a fairy house to invite imagination into backyard play. Older kids can create replicas of their favorite characters and fictional worlds such as making Minecraft themed paper crafts. Even teens can get into craft projects like using different tie dye folding techniques to create unique fashions.
Useful Craft Projects for the Home
From no-sew window treatments to homemade braided rugs, craft projects can be more than art and actually be useful in your home. Use old window shutters to create beautiful wall hangings or update your dressers and nightstands when you learn to decoupage furniture. Go beyond aesthetics and make homemade bath salts to help you relax after a hard day's work. Gather up unusual materials like wine corks to make coasters or even a knife holder.
Cool Fashion Craft Projects
Save money and help the environment by making one-of-a-kind clothing and accessories. No-sew shirt projects help you turn old or oversized shirts into new fashion statements. Show off your personality with a unique purse made from a book. Use free beaded necklace patterns to craft accessories for every outfit. Whether you can knit, crochet, sew, or cut and glue, you can make your own fashionable items.
Beautiful Seasonal and Holiday Craft Projects
Celebrate the season or your favorite holiday with DIY craft projects instead of spending tons of money on commercial decorations everyone else in the neighborhood will have. Make your own seasonal wreaths every few months or create beautiful holiday wreaths with decorative mesh ribbon. You can crochet cute Santa ornaments for your Christmas tree or even make your own Christmas yard decorations. Whatever the occasion, craft projects can make it more magical and personal.
Get Inspired to Craft
These projects should give you ideas that you can use to develop your own one-of-a-kind crafts. Every crafter is different and approaches his or her work in a different way. Project ideas should be seen as guidelines that, when combined with your own creativity, make you feel confident and satisfied.