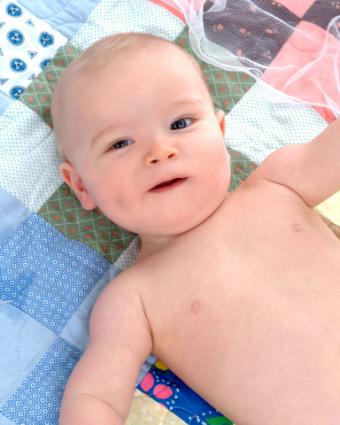 Why pay for baby quilt patterns when so many are available for free? Whether you're looking for a quilt design that would suit a boy, a girl or both, the quilt patterns listed here offer projects that range from easy to more advanced.
14 Free Baby Quilt Patterns
The quilt pattern you select is a matter of personal choice. Many people feel some colors or themes are more suitable for a particular gender, such as the traditional pink for girls and blue for boys. Other colors are often used for babies of either gender. The following patterns cover a wide range of designs, and you can substitute fabrics of different colors and prints to tailor many of these quilts to suit any baby.
Patterns for Boys
G'Nite Owls - If you prefer a more contemporary-looking baby quilt that doesn't require sewing together so many individual squares, give this easy pattern a try. It's a one-day project, and the colors and prints of the Cloud 9 fabrics called for in the pattern are perfect for a boy's quilt. The finished size of the quilt is 36" x 45".
Row, Row, Row Your Boat - This intermediate level pattern is too cute to pass up. Six little sail boats floating on blue chenille waves adorn this baby quilt, and the opening words of the popular children's song are embroidered in the middle. The finished quilt size is approximately 40" x 44."
Ben's Star - The bold star pattern of this quilt would look great in a baby boy's nursery. This is a fairly advanced pattern that is better suited to quilters with more experience. The finished quilt measures 43 1/2' x 43 1/2."
Patterns for Girls
Butterfly Baby Quilt - Beautiful pastel butterflies on a background of white and pink create a lovely design for any baby girl's nursery. The finished quilt is 48" x 48".
Sweet Stuff Baby Quilt - Since little girls are supposed to be made with sugar and spice, this quilt offers an ideal theme to match. The pattern calls for Robert Kaufman novelty print fabrics and lists the exact prints you'll need. The finished quilt is 58 1/2" x 79 1/2," so this keepsake will remain useful well beyond babyhood. Just click on the quilt page's dowload link for the pattern pdf.
Candy Hearts Quilt - Colorful candy hearts and ruffles ensure this quilt would definitely be suitable for a baby girl. The finished quilt is 45" x 54".
Patterns Suitable for All Babies
If you prefer to avoid the long-standing pink or blue tradition, consider one of the following free baby quilt patterns. Each one is equally suitable for a boy or girl.
Free Baby Quilt Video
Sometimes following a pattern can be a bit challenging. The following video from Missouri Star Quilt Company offers an excellent tutorial on how to make a simple yet fabulous baby quilt. Once you make this quilt, you can use the same directions to make more quilts using different fabrics and prints.
Time to Start Quilting
With so many free patterns to choose from, you should never run short of inspiration. Start making baby quilts for your own infant or give one of these quilts away as a lovely baby shower gift. Quilts tend to become cherished family heirlooms, so your work and thoughtfulness will be appreciated for generations to come.