Thanksgiving Stained Glass Patterns
With free stained glass patterns, it's easy to create beautiful Thanksgiving decorations for you home. Your stained glass creations can also be given as gifts to friends and family or sold at craft fairs to generate extra income.
Free Thanksgiving Patterns
The following stained glass patterns provide a frugal and convenient way to begin your Thanksgiving-themed project. Simply choose the pattern you want, click on the image, and save the file to an appropriate location on your computer. Open the PDF file using Adobe Reader and proceed to print the pattern on the paper of your choice.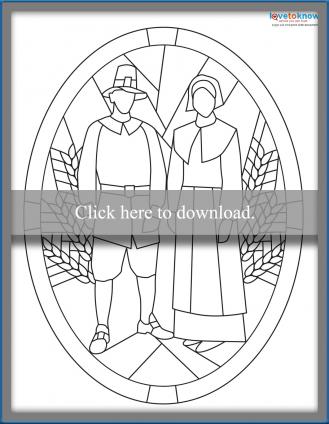 Transferring Patterns to Your Glass
When using your pattern you will need at least two copies of the image. The first copy should be used for numbering each piece and noting factors such as the color of the glass and the grain direction you want each piece to have. This is essentially your road map for your project.
The second pattern will be transferred to tagboard, transparency film, or contact paper using carbon paper. Alternatively, if your printer allows the use of thicker papers, you can try printing directly onto these materials. This pattern will be cut and used to prepare each individual piece of glass. Use a ruler and craft knife or scissors suitable for detailed cutting. If you are worried about leaving enough space for the pattern pieces to be joined together, you can cut the pieces with pattern shears designed for foil, lead, or mosaic stained glass projects.
If you need assistance transferring your pattern to your glass, Inland Craft has a detailed guide explaining the process.
Additional Free Stained Glass Patterns
You can find more patterns for Thanksgiving-themed stained glass projects online. Try one of these designs:
Create Festive Stained Glass Crafts
Using free patterns is an excellent way to start making stained glass crafts, even if you're relatively new to this exciting hobby. Over time, you can create a collection of lovely handmade Thanksgiving decorations.