With free stained glass patterns, it's easy to create beautiful Thanksgiving decorations for you home. Use these free patterns to create stained glass art for friends and family or sell your work at craft fairs to generate extra income.
Downloading Free Stained Glass Thanksgiving Patterns
To download the pattern, simply choose the one you want, click on the image, and save the file to an appropriate location on your computer. Open the PDF file using Adobe Reader and proceed to print the pattern on the paper of your choice.
Cornucopia Stained Glass Pattern
You can use this cornucopia pattern to create a gorgeous stained glass suncatcher or decorative piece for your table. You can also make it into a glass mosaic tray or trivet to use on Thanksgiving Day.
Pilgrim Couple Stained Glass Pattern
This pattern is simpler than some others because many of the cuts are straight. You can also use this design for a children's Thanksgiving craft using colored paper or tissue paper.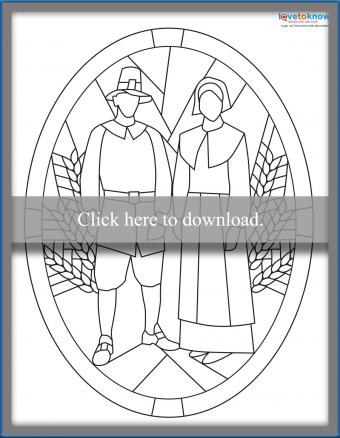 Classic Turkey Stained Glass Pattern
This gorgeous turkey pattern will give you a beautiful stained glass piece you can use year after year. It's a bit more advanced, due to the curved cuts, but it is a great way to practice your stained glass skills. It also makes a great glass mosaic pattern.
How to Use Stained Glass Patterns
Once you choose and download a pattern, it's time to get started on your project. Take a moment to review the basics of stained glass, and then keep these tips in mind.
Print One Pattern as a Plan
When using your pattern, you will need at least two copies of the image. Use the first copy for numbering each piece and noting factors such as the color of the glass and the grain direction you want each piece to have. This is essentially your road map for your project.
Print a Second Pattern for Cutting
Print a second pattern to transfer to tagboard, transparency film, or contact paper using carbon paper. Alternatively, if your printer allows the use of thicker papers, you can try printing directly onto these materials. You can cut this pattern and use it to prepare each piece of glass. Use a ruler and craft knife or scissors suitable for detailed cutting. If you are worried about leaving enough space for the pattern pieces to be joined together, you can cut the pieces with pattern shears designed for foil, lead, or mosaic stained glass projects.
Practice Cutting First
Learning to cut glass takes some time, especially when it comes to curves or sharp corners. If you're new to stained glass, practice your cuts on a plain piece of glass before you try them on expensive stained glass.
Consider a Class
Besides cutting the glass pieces, stained glass takes skill and practice. If you haven't tried this art before, take a class from your local art school or community center. You can start with simple stained glass projects and more on to more advanced patterns like these.
Additional Free Stained Glass Patterns
You can find more patterns for Thanksgiving-themed stained glass projects online. Try one of these designs:
Assorted Thanksgiving Patterns: Free Patterns for Stained Glass has a large assortment of Thanksgiving patterns, including acorns, pumpkins, turkeys, fall leaves, and a wreath.
Turkey Lamp Pattern: Delphi Glass has a pattern that can be used to make a stained glass turkey lamp for Thanksgiving.
Leaf and Acorn Pattern: This leaf and acorn design will lend a sophisticated look to your Thanksgiving decor.
Create Festive Stained Glass Crafts
Using free patterns is an excellent way to start making stained glass crafts, even if you're relatively new to this exciting hobby. Over time, you can create a collection of lovely handmade Thanksgiving decorations.