If you don't have the time or desire to sew but want to make beautiful home decor projects and apparel, then no sew projects are for you. With the right skills you can make anything from a sleeping bag to a scarf. These fantastic no sew crafts prove that you can get creative with fabric without getting picking up a needle.
No Sew Home Decor Crafts
Whether you want to decorate your home for a specific holiday or you simply need a change to keep things looking fresh, there are lots of fun projects to make that don't require sewing. Choose your favorite colors and fabrics to create items that will match your decor and allow you to show off your own unique taste. These simple projects can be completed by anyone, regardless of your sewing skills.
No Sew Fleece Blankets
If you've been wondering how to make no sew fleece blankets, this simple tutorial will make it a breeze. It includes a printable blanket pattern and complete instructions. This particular fleece throw is designed to be full size. Once you master skills on this blanket, you can transfer them to other projects like no sew baby blankets or throws.
No Sew Pillows
Decorative pillows are a staple in many homes for good reason. From placing them on sofas to add a touch of color and style to using them in bedrooms to create a relaxing, cozy oasis, there are many ways to use pillows creatively to add style. Learn to create pretty pillows that are as functional as they are stylish with this guide. which includes instructions on how to make place mat pillows and no sew fleece pillows with step-by-step instructions.
Easy Curtains
Window treatments are another essential for home decor, but they can be expensive. As an alternative, use this guide to make fun custom beaded curtains that require zero sewing. You can also use these for decor purposes as well as on windows.
Simple Sleeping Bag
Kids love sleepovers, and you can give your child the gift of a cozy, one-of-a-kind sleeping bag with the instructions in this article. You can use your little one's favorite colors and get creative with the styling to make a sleeping bad she'll love.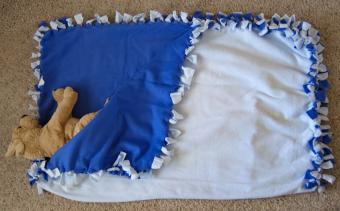 Pretty Placemats
Placemats are both functional and attractive, and you can create the perfect ones to fit your decor style and add a custom touch to your table with this guide to no sew placemats. Get easy-to-follow directions and supply lists for four types of placemats that don't require sewing: simple placemats, stamped placemats, painted canvas placemats, and collaged paper placemats.
No Sew Apparel Ideas
You can also make great things to wear without threading a needle. Because they don't unravel, fabrics like fleece and tulle lend themselves to apparel projects you don't have to sew. From aprons to accessories, there are lots of great no sew crafts to help you express your personal style.
No Sew Scarf Ideas
Scarves not only help keep the chill away when temperatures dip, they can add an impressive dose of style to your outfit. Learn how to make two different tyoes of no sew scarves: a comfortable jersey style and a cozy fleece scarf option.
No Sew Projects With T-Shirts
Everyone has old t-shirt lying around. With help from this article, you can learn how to rescue your shapeless old t-shirts from the bottom of your closet and transform them into stylish pieces. Discover how to make a feminine, one-shoulder top, a cute no sew skirt, and an easy finger-crocheted DIY scarf.
DIY Tote Bags
Fun, functional, and stylish, tote bags are a staple for every woman. If you want to use your creativity to make one for yourself or to give as a gift, check out this slideshow, which includes several no sew top bag options along with some sewing ideas.
Easy Fleece Hats
Looking for an easy afternoon project to keep an adult or child warm in cooler temps? Look no further than this now sew fleece hat tutorial. It provides instructions for making fun fleece hats for both child sizes and adults.
No Sew Apron
If you're looking for an easy way to keep your clothes clean from dinner-making spatter, this DIY apron has you covered. Chances are your hubby, boyfriend, or significant other has an old button-down shirt sitting in the closet. A few easy steps will help you transform it from closet clutter to a cute apron.
Magical No Sew Tutu
Whether you have a budding ballerina or an aspiring princess in your house, little girls will love this custom no sew tutu. Surprise your little girl, niece, neighbor, or grand daughter with an adorable tutu. Along with the basic design, you'll find tips and instructions for fun variations in the article below.
Experiment With New Techniques
Even if you don't have access to a sewing machine or lack the time to sit down with a needle and thread, there are lots of fantastic no sew project and no sew fabric crafts you can create. Experiment with a variety of home décor and apparel crafts to find out which no sew techniques you like the best.