Crafting With Tempera Paint
Tempera, that staple of the preschool art supplies cabinet, comes in liquid and powder form. It's water-soluble, fast-drying, and adaptable to an almost infinite variety of mediums for crafting. Think outside the paintbox to create your own masterpieces with tempera paint.
Pudding Paint
The exuberant Van Goghs in your house will love the thick texture and bumpy dried surface of pudding paint. The tempera-based color mimics impasto, which artists apply with a palette knife or sturdy brush. This paint will last for several weeks in your fridge.
Ingredients
2 cups white flour
5 cups water
3 tablespoons iodized salt
1/2 cup sugar
Instructions
Mix the ingredients and heat in an old pan until the soup starts to thicken and boil.
Let it cool completely before refrigerating.
How to Use
When you're ready to paint, spoon cold "pudding" into small open containers and mix in powdered or liquid tempera to your desired color and intensity. Apply the pudding paint to card stock, cardboard, or very heavy paper with a wooden craft stick.
Glue-Paint Sculpting Dough
Cookie cutters and a rolling pin are tools of the trade for young holiday artists making cut-out ornaments. Shiny "glaze" paint adds realistic icing-like color to sculpted "dough" shapes.
Ingredients
For the dough:
1 part white school glue
1 part white flour
1 part cornstarch
Cutting board
Cookie cutters
Unsharpened #2 pencil
Oven
Yarn or ribbon
For the glaze:
Empty individual pudding cups
White school glue
Liquid tempera paint
Dish detergent in squeeze bottle
Craft sticks (for mixing)
Instructions
For the dough:
Mix one part white school glue, one part white flour, and one part cornstarch to make the dough.
Knead the mixture and roll out the dough on a cutting board.
Press cookie cutters into the dough for the shapes.
Gently poke a hole in the top of each 'ornament' with the unsharpened end of a pencil.
Allow the shapes to dry hard or bake them in a low (200-degree) oven.
For the glaze:
Whip white school glue and drops of liquid tempera paint in a small cup.
Add the drops slowly until you reach the desired color strength.
Add a drop of dish detergent to each cup of colored glaze to make it stick to the dough.
Paint the dried dough with the colored glazes.
After the glaze dries, add another coat to deepen the color.
Poke the yarn through the hole for a loop to hang the ornament.
Shaving Cream Paint
Who doesn't love to play in shaving cream? The fluffy, squishy mounds of stuff, corralled in the bottom of a cut-out cardboard box with low sides, is a tactile delight. Even little kids can make these super-cool marbled paintings.
Ingredients
Small cardboard box
Box cutter
Can of shaving cream (you might need more than one!)
Tubes or jars of liquid tempera paint
Craft stick or butter knife
Construction paper (light or white colors are best)
Instructions
Cut down a cardboard box to a container with sides about three or four inches high.
Empty the contents of a can of shaving cream into the box.
Play with the foam, leaving it full of peaks and bumps.
Squeeze squiggled lines of liquid tempera parallel to each other over the bumpy, wavy foam.
Zigzag through the lines of paint with a butter knife or craft stick.
Create an abstract pattern that "floats" on the surface of the shaving cream.
Lay a piece of construction paper on the painted foam and lightly tap it down.
Tap until the paint touches the paper all over the sheet and creates an image.
Peel the paper off the shaving cream carefully and let the painting dry.
Keep stirring the colors to make different patterns for a series of paintings.
Grass Paint
Lawns are so boring - until you turn them into works of art or playing fields with tempera paint. "Paint" a diamond, soccer field, or badminton court on the side lawn. Chill your inner mystic with a temporary backyard labyrinth to walk, just past the patio. Decorate the path to the front door with a riot of colorful "painted" flowers, or a patch of lawn by the swings with a world map.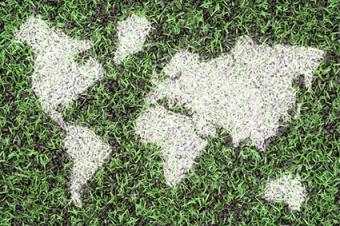 Ingredients
Large bowls or containers
Measuring cup
Tablespoon
Clean paint sticks
Soup ladle
White flour
Powdered tempera paint
Flour sifter
Measuring tape
Wood or metal stakes
String
Grid paper and pencil
Card stock
Scissors
Empty plastic squeeze bottles
Instructions
Dump a cup or two of white flour into a large bowl.
Add powdered tempera paint, a spoonful at a time.
Mix the powdered paint into the flour with a paint stick. (You can extend the tempera a lot with flour before it begins to get too pale.)
Once you are happy with the color, ladle one color into a flour sifter.
Lay down one color at a time to make your design on the grass, and then fill the sifter with the next color.
Options
There are multiple ways you can use this technique.
Measure and mark the lines of a playing court or labyrinth with a measuring tape, stakes and string; give the artists flour sifters to lay the lines on the lawn. (Best not to try this on a windy day.)
Draw or transfer an ambitious decorative pattern onto grid paper. Stake off the grids on the lawn, using the paper as a guide. Fill in the design, using flour sifters and colored powder.
Draw a map on card stock or heavy paper. Cut the continents out and lay them on the lawn. Sprinkle plain flour lightly around the pieces to create map outlines. Remove the card stock and fill in the shapes with sifted colored flour.
Cut the tip off the top of each empty plastic squeeze bottle to make a wider opening. Fill each bottle with colored flour -- start with green. Create a flower border along a path by squeezing green colored flour to make stems, leaves, and blossom outlines. Fill in leaves and petals with puffs of colored paint from the flour sifter.
Egg Tempera
Paint like a Renaissance master with real egg tempera, the easy modern version. Centuries ago, artists mixed egg yolk with water and ground minerals, clay, dried berries, insects, or even pulverized gemstones to make luminous thin paint that dried like glass. You can still see that paint, framed in gold and hung in great museums. Mix up a batch yourself, and watch the paint dry to a low-gloss, natural sheen.
Ingredients
An egg
Teaspoon and cup
Paintbrush
Powdered tempera
Canvas, paper or wood painting surface
Instructions
Separate an egg and reserve the white for another use.
Mix the yolk with 2 teaspoons of water in a small cup.
Place powdered tempera on a shallow dish -- start with a teaspoon and add more as needed.
Spoon the egg mixture into the dish with the paint powder.
Mix egg and paint together with a paintbrush until the mix is runny.
Use the egg tempera as you would regular art paint, on canvas, heavy paper, or a wood panel.
Body Paint
Those lazy, hazy days of summer tempt kids to backyard exploits that might as well include art-to-wear. Save empty plastic food containers for paint pots and have the sprinkler ready.
Ingredients
Empty plastic containers or shallow bowls -- one per color
Liquid tempera paint
No-tears baby shampoo
Craft sticks for stirring
Camera
Handy sprinkler or shower
Old towels
Instructions
Squeeze a small amount of baby shampoo in each container.
Add liquid tempera paint and stir until the color reaches a bright, opaque shade.
Make enough of each color for the number of kids who will be painting.
Let artists in bathing suits or minimal old clothes loose to fingerpaint their faces and bodies.
Take some photos or videos of the body art to share.
Run the living masterpieces through a sprinkler when the fun is done.
Hose down very enthusiastic artists to remove all the paint.
In colder weather, limit body painting and clean-up sessions to the tub.
Dry off with old towels.
Tempera Batik
Batik is a sophisticated indigenous wax-resist dying process that results in intricately patterned, one-of-a-kind fabrics. Paintings and notecards with batik-style designs are simple to make using tempera paint. The process employs chalk and ink rather than tricky dyes, melted wax, and practiced technique. Older kids and adults can handle the easy steps to creating individual works of art.
Ingredients
Construction paper
Chalk
Liquid tempera paint
Paintbrush
Tissue or soft cloth
Pushpins or low-adhesive tape
Masonite board or easel
Saucer
Small natural sponge
India ink
Access to running water
Instructions
Draw a thick chalk outline of a subject or an abstract pattern on construction or art paper.
Fill in the design, between the chalk lines, with tempera colors - no black.
Build up paint layers until the design is opaque and let the painting dry.
Wipe away the chalk lines with a tissue and secure the painting to an easel or masonite board with tape or pushpins.
Pour a shallow amount of India ink into a saucer and dip a small art sponge in the ink, just to moisten it, not to soak it.
Wipe the ink over the whole painting once, being sure to cover all the unpainted lines that were drawn in chalk.
Allow the ink to dry for a half-hour.
Remove the painting from the backing and run a trickle of water over it, lightly rubbing the ink off the paint.
Set the paper "batik" on a flat surface to dry. Some ink will stick, shadowing the colors, and the black lines will remain, as the lines would in dyed fabric batik.
More Tempera Tips
Your choices for arty projects using tempera are nearly limitless. Because it is inexpensive and non-toxic, you can experiment with craft projects for all ages with a broad range of primary, pastel and unusual colors. Add sand, salt, liquid laundry starch, or powdered milk to tempera for different effects, and invent your own magic formula.